100MoN Jersey Confounds Man and Machine Alike
Curious Cycling, Curious Math at Plymouth CX


Photos Saturday - Sunday Strava Sat Cat 4/5 - Sat Cat 2/3/4 - Sun Cat 4/5 - Sun Masters 45+
Results Sat Cat 4/5 - Sat Cat 2/3/4 - Sun Cat 4/5 - Sun Masters 45+
My CX History


---



I rode my first 100MoN in 2012--200+ miles down the length of New Jersey. Because what says nowhere like 200 miles of New Jersey?

2015 marked my second 100MoN. The announced November dates fell squarely in the middle of cyclocross (CX) season. One hundred miles asks a lot during CX season--perhaps I could find a Sat-Sun event, enter multiple races each day, and wrap a number of preride laps around the races to piece together some sizable mileage.

I checked the Massachusetts schedule--the Plymouth Festival of Cyclocross spanned Sat Oct 31 and Sun Nov 1. Based on my age (getting up there) and ability (not really up there at all), I qualified each day for one race in the morning and two races in the afternoon.


Failing to sense much of a CX presence in Fattyworld, I'll digress a bit to provide some context (apologies to the already initiated--feel free to skip the indented text). Amateur CX races typically last around 40 minutes and consist of 4-6 laps of one and a half or so miles on a mixture of dirt, grass, sand, and a bit of pavement.

At first glance, CX bikes look like their road counterparts, but a closer inspection reveals wider, knobbier tires and either cantilever or disc brakes. The tire and brake variations accommodate the often slick or downright sloppy course conditions that the fall/winter season often offers.

Racers maneuver their machines around laps spotted with numerous technical elements. These elements include technical sharp and off camber turns, power straightaways, and barriers or steep climbs that force riders to dismount and carry their bikes.

A day of CX features multiple fields starting at hourly intervals. Ability, age, or both define the makeup of each field. Regarding ability, as with road racing, CX uses the "Cat" system: Pro and Cat 1 at the advanced end and Cat 4 and 5 at the lesser end. Brackets of ten years typically make up the age groups.
As a 50 year old Cat 4 racer, I qualified for the 9am Cat 4/5 race, the 1pm Masters 45+ race, and the 2pm Cat 2/3/4 race. Even two races a day is a lot--there was no way I was doing three.

Still, I owed Camp Kasem the miles, so I opted for Cat 4/5 and Cat 2/3/4 on Saturday and Cat 4/5 and Masters 45+ on Sunday.

SAT CAT 4/5: Resplendent in my 100MoN jersey (thanks, DNA Cycling, for the expedited shipment!) and 2015 Team Fatty bibs, I lined up in the starting grid with 86 like-minded knuckleheads and waited for the starting whistle.


Unlike road racing, which finishes with a bunch sprint, cyclocross STARTS that way. The objective: be first to the first turn (the "hole shot") and avoid the inevitable bottleneck that quickly builds up behind.

Winning the hole shot pretty much requires a start in the first row, or maybe the second row for a particularly strong rider who gets a lucky break. So what determines a racer's starting row? Cross Points, or CXP.

Every CX racer carries a CXP designation based on prior results. The best male racers in the world cluster from 100 to 150 or so CXP (lower being better; at present, the top 12 are either Belgian or Dutch, with the top-ranked American, Jeremy Powers, sitting at 34th).

A strong Cat 2 rider might be at 250-300 CXP. By comparison, a back-half-of-the-pack Cat 4 racer such as yours truly naturally falls around 600-650 CXP.

Cross Points earned in a given race depend on the relative strength of the field (be thankful that I'm sparing you the detailed underlying formula). By selectively choosing one's field for a given race, it's possible to game the system a bit and artificially lower one's CXP.

And exactly that sort of manipulation explains why I'm currently sitting on 562 CXP, almost 100 better than I deserve.

I find myself several rows ahead of riders who match my ability, including teammates DavidG, MaxG, TroyK, DanS, and JasonW. The whistle sounds--aiming to widen my starting position advantage, I put everything I can into the opening sprint to get as far forward in the hole shot bottleneck as I can.


At Plymouth, that hole shot consists of a sharp left turn up a curb off the pavement and into a narrow, curvy descent on dirt. We jostle our way to the bottom at a walking pace, dismount, shoulder our bikes, and navigate the Plymouth course's defining element--a steep run-up.



Top of the run-up during a pre-ride lap [credit J.Daniels/muddydogbikes]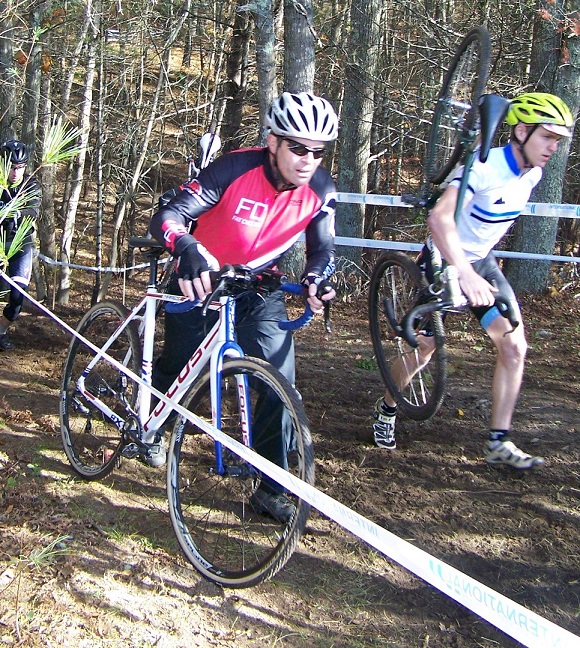 At the top, it's back on the bike, knock the mud out of my cleats, clip back in, make a few turns, and dismount for a pair of barriers.


A cyclocross barrier is a 12 to 15 inch high plank set perpendicular to the course. Barriers come in pairs separated by 12 to 15 feet.
Safely over the barriers, I remount, then just as quickly dismount to run the short sand pit leading into the woods. On later laps, I'll ride the sand, but congestion makes that impossible on lap one.

Back on the bike, I navigate some fast technical turns through the trees before reaching a fire road for the course's first real power section. The slight uphill grade coupled with the dirt and rock surface takes its toll and I slide back a few positions.

I pop out of the woods onto playing fields, navigating hairpin turns through trees before the next power section, this time on grass. A short set of steps interrupts the power section, forcing a dismount/run/remount.

The lap finishes with a straight paved path through more woods, a few turns around a tennis court, and finally a few more turns before the paved finish straightaway. Now I just have to suffer this ordeal four more times.


Cyclocross is raced pretty much at heart rate threshold for the full 40 minutes. Yes, a few sections afford recovery, but for the most part, it's all out. With one lap down, four to go, and my heart rate pinned, I once again question why I love CX so much.

Several reasons. First, the camaraderie. I train and race with a great group of friends always ready to trade a tip, a beer, or in tight turns, the occasional elbow.

Second, the competition. In road racing, a rider of my "talent" quickly finds himself off the back and alone; in CX, the slower speeds and lack of the peloton's aero benefits means there's almost always a rider ahead to chase and another behind who's chasing.

Third, the course. Racing CX bikes off road is a melt-away-the-years blast without the imminent death risk of full-on mountain biking.
The next four laps see essentially a repeat of lap one, so I'll spare the description save for the finish. As I come out out of the woods after the fire road midway through the final lap, I spot a rider a hundred yards or so ahead. Too far for a catch, I think, but I give it a try. The gap slowly closes, and as we round the final turn onto the finish pavement, I'm right on his wheel.

I'm built more like a sprinter than a climber, but my 1x11 gearing gives up a lot at the high end. No time for gear regrets, I go full throttle and upshift to my top-end 38-11. I've got more left in the tank than he does and cross the line ahead by several bike lengths.

The results would later show that I took 61st out of 87, a pretty typical outcome for me, earning 659 CXP in the process. Better than that, though, was holding off my teammates. Without my starting position advantage, I likely would have lost to Troy and been in much more of a dogfight with David, Jason, Dan, and Max.

Cumulative miles: 3.4 for preride, 7.4 for race, 10.8 total



Post-race in my 100MoN kit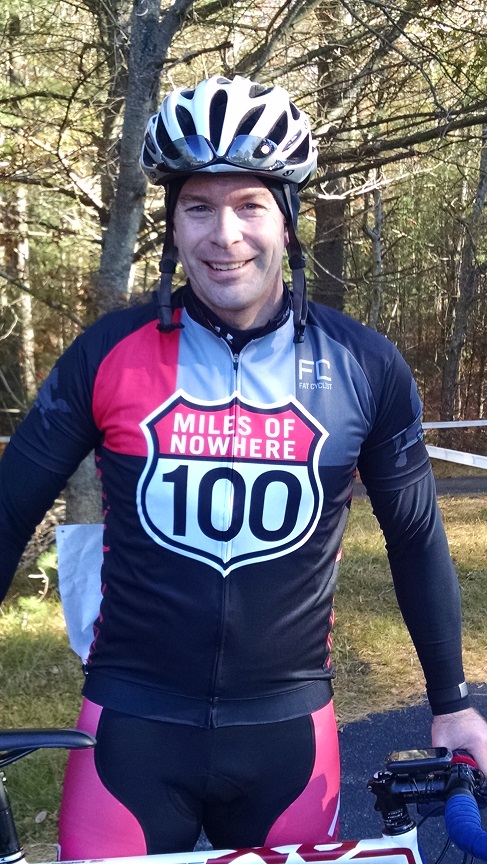 SAT CAT 2/3/4: Fear not, I won't spend nearly as much time describing races two through four. I've got no business being in a 2/3/4 race, and this particular edition proves the point. I'm quickly off the back and riding solo, demonstrating the occasional fallacy in my point above a rider behind who's chasing.

I finish 42 of 45. On paper, much worse than the morning effort. But the strength of field comes into play in determining my CXP--I end up with 492, my best ever by 30.

Cumulative miles: 4.6 for four more prerides, 7.4 more for race 2, 22.8 total

SUN CAT 4/5: Overcast and hints of rain replace Saturday's sun. Saturday's 40 degree temps at 9am give way to Sunday's 50. I'll take the trade. But just barely.



Barriers [credit Kristin Brandt/Steve The Bike Guy Velo Studio]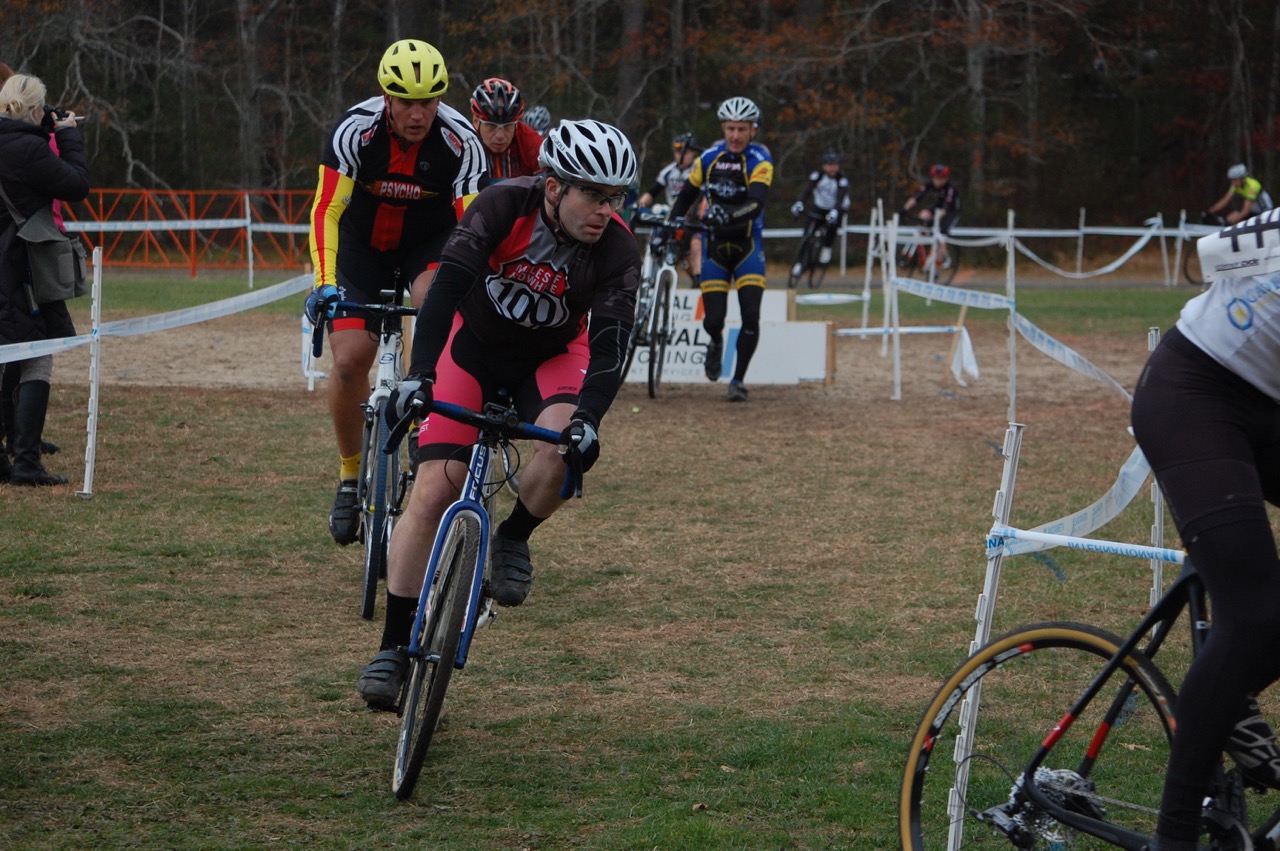 A few changes to the course, as is typical in a two-day event at a given venue. Only one friend with whom I'm competitive today: TomP, whom I've never beaten, but against whom I'm close. Maybe today's the day.

Tom and I spend the first few laps trading positions--I'm better at the technical stuff, he takes me on the power sections. On the final lap, he pulls away. For me, 65 of 88, good for 650 CXP.

High point of the race? Just as the starting whistle blew, the organizers tried to pull me. They'd tell me after the race that the black "100" on white field of my 100MoN jersey, adjacent front and back to the race number pinned to my right side, was wreaking havoc on the human scorers and finish line camera.



Sun Cat 4/5 lap 1




Cumulative miles: 2.6 for preride, 8.6 for race, 34 total

SUN MASTERS 45+: Black duct tape covering the 100MoN "100," I'm ready to go, and ready to be more competitive than Saturday's Cat 2/3/4 effort.



Blacked out 100 MoN jersey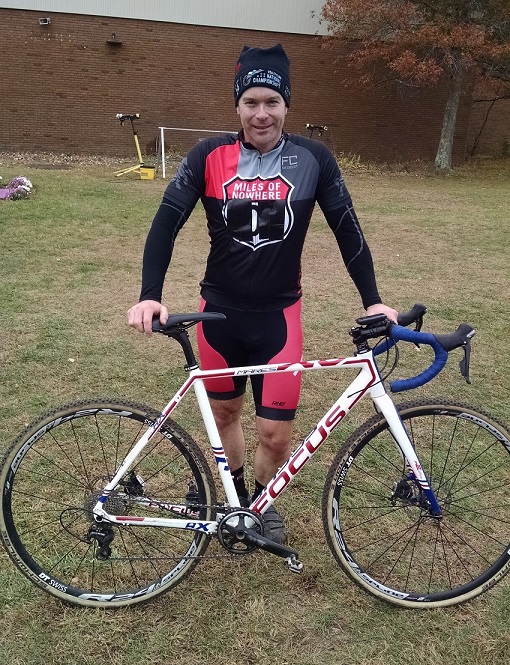 Typically, compared to a 2/3/4 or 3/4 field, a Masters race will have equally good talent at the front of the race. But the falls off faster across the typical Masters field. I should finish better than yesterday's 42 of 45.

I don't. Twenty-two of 23. And only 668 CXP, not even as good as the 4/5 race.

Cumulative miles: 7.5 for race, 41.5 total

Not even 42 miles? I'd fallen well short of the target 100. Or had I?

Applying the universally-accepted dirt-to-pavement multiplier of 2.5, my 41.5 became an eerily Leadville-like 103.8.

And, despite never placing in even the top two-thirds of a field across my four races, I nonetheless eked out a position on the top step of the podium in the 100MoN-Clad, Half-Century-Old, Sub-300-Watt category.

Victory declared, I headed for home.